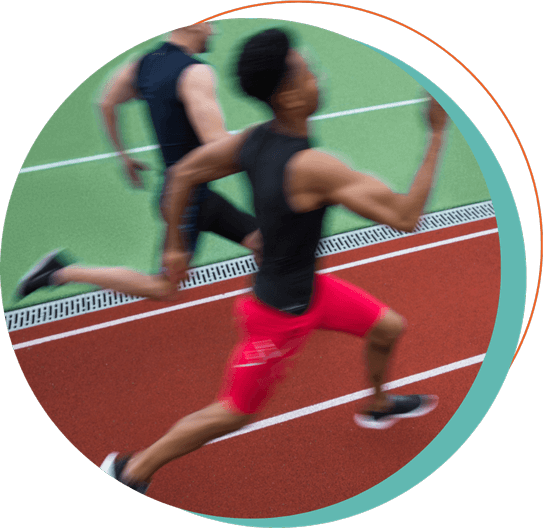 What is Athlete Coordination Enhancement?
Our Athlete Coordination Enhancement (ACE) program is a proprietary program, unique to Parker Performance Institute, that improves the way athletes of all ages and capabilities perform complex coordinated movement.

This program is very different from what an athlete experiences from traditional training alone because we combine our brain performance training with athletic movement to unlock next level reaction time, peripheral vision, decision making, positional awareness, and increased resilience to fatigue.
Why is our ACE program important?
Our ACE program fills in the missing neurological components of traditional athletic training, that we call athletic intelligence. To be elite or take your game to the next level, an athlete must address all global aspects of performance. Since we are a healthcare facility, we can leverage our knowledge, skills, technology, and programming to help athletes improve their athletic intelligence so they see results on the field that they otherwise would not achieve.
How is the ACE program given?
The ACE program begins with a comprehensive intake process with one of our doctors, that takes a deep dive into an athlete's composition and metabolic efficiency, physical strength and endurance, cognitive performance under stress, and ability to process sensory (response) information.

The highly detailed data from the intake process, can be thought of as a performance blueprint unique to the tested athlete. This blueprint is very valuable because it allows us to gauge where the athlete needs to go performance-wise but also allows our doctors to have a comparative analysis in the event an athlete becomes injured in the future.

An athlete participates in doctor-led performance optimization sessions over six weeks involving neurovisual, spatial awareness, isometric, sport specific, and cardiorespiratory activities with performance data correlated with the intake data so performance gains can properly be identified.
Frequently Asked Questions about our ACE program?
Is the ACE program individualized or does it involve group sessions?
There are options for people to participate in one-on-one or group sessions.
How do I pay for the ACE program?
The program is an all-in-one process including assessments and sessions packaged together. Contact us so we can discuss your needs and help you choose the ACE program options that are right for you.
Can my coach or trainer perform this type of assessment?
Not really. Coaches and trainers may be knowledgeable with athletic movement and execution but our doctors, in addition to their health care credentials, have additional master's training in sports medicine, strength and performance, and clinical neuroscience plus extensive experience working with elite performers of all ages. This combination of health care and athletic knowledge and experience, coupled with our technology, allows us to evaluate and help athletes not commonly seen in coaching or athletic training. Because of our focus on neurology, our programs compliment athletic training programs very well.
How long does the ACE program take?
The intake will take about 40 minutes and the discussion about the findings may take 30-60 minutes. Typically, the assessment the discussion about findings occurs over two different visits to allow our team time to properly identify deficiencies and formulate recommendations.
The performance optimization sessions occur weekly over six weeks.
Can the ACE program be combined with other Parker Performance Institute programs?
Yes. Please contact us to discuss your needs and goals and we will create a package appropriate for you.