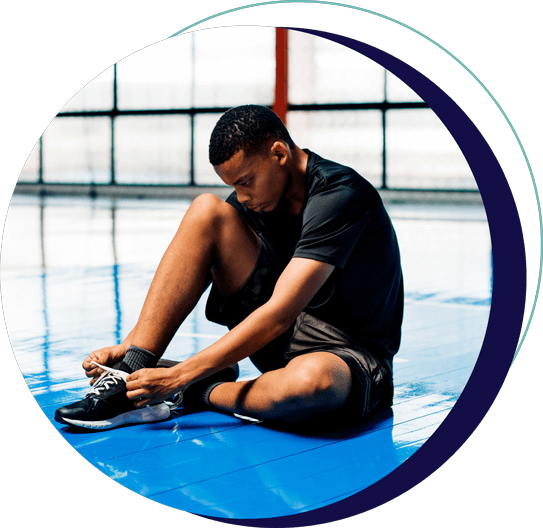 What is a functional movement assessment?
Our technology allows us to assess three-dimensional functional movement, ranges of motion, gait, posture, and balance control to better understand why you became injured or are experiencing a barrier to better athletic performance. We use this information to custom-make a unique approach to help you achieve your goals.
Why is a functional movement assessment important?
An athlete is required to perform regardless of equipment, environmental conditions, injury, and mental clarity. It is vital for an athlete to possess stability and coordination movement foundational to performance so these examples of the performance affecting factors can be mitigated.
In approximately 30 minutes, the results of our 3D functional movement assessment can inform training and other support essentials so an athlete can develop appropriately to be successful.
How is the functional movement assessment performed?
The athlete performs movements that are captured by a video camera and software that allow one of our doctors to evaluate and identify faulty performance and movement nuances that may be affecting an athlete's overall performance or resilience to injury.
Frequently Asked Questions about our functional movement assessment
Can my coach or trainer evaluate my functional movement?
Coaches and trainers may be knowledgeable with athletic movement and execution but our doctors, in addition to their health care credentials, have additional master's training in sports medicine, strength and performance, and clinical neuroscience plus extensive experience working with elite performers of all ages. This combination of health care and athletic knowledge and experience, coupled with our technology, allows us to evaluate and help athletes with unique skills that assimilate well with coaching and athletic training programs.
How long does a functional movement assessment take?
The assessment will take about 30-40 minutes and the discussion about the findings may take 30-60 minutes. Typically, the assessment the discussion about findings occurs over two different visits to allow our team time to properly identify deficiencies and formulate recommendations.
Can the functional movement assessment be combined with other Parker Performance Institute programs?
Yes. Please contact us to discuss your needs and goals and we will create a package appropriate for you.